She said what...?
Risking the wrath of her Tory colleagues and shredding the Brexit credentials she has spent more than a year building, she told a radio talk show that if there were another referendum she'd have to think about how she'd vote.
"I'm being open and honest with you—what I did last time round was I looked at everything and came to a judgment, and I'd do exactly the same this time round—but we're not having another referendum and that's absolutely crucial."
She was savaged on Twitter, not least by ex-UKIP leader Nigel Farage—another LBC host—who said she wasn't the right person to deliver Brexit.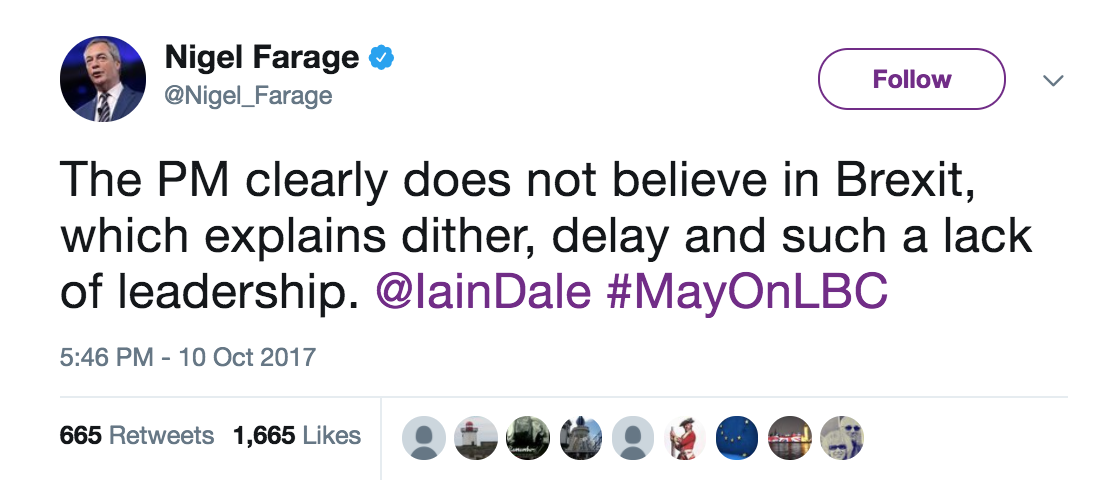 But that's not all: May's deputy Damian Green then said he thought the U.K. would be better off inside the bloc. Both insisted there would be no second referendum, so it's all academic.
Any suggestion the prime minister's heart is not in Brexit could be fatal to her chances of surviving another coup attempt from her restless party. Still, the comments will be welcomed by companies and politicians who want Britain to stay in the single market, or even abandon the process of leaving.
Foreign Secretary Boris Johnson and other leading pro-Brexit Tories stayed quiet overnight.
Chancellor of the Exchequer Philip Hammond, already perceived by the pro-Brexit camp as someone who's trying to hold back the divorce and maintain close ties to Europe, also weighed into the debate. He rejected a key euroskeptic demand to commit resources to contingency planning in case negotiations break down without a deal. Those talks take a pause in Brussels on Wednesday, amid accusations from the EU side that Britain is dragging its feet.
EU President Donald Tusk raised the possibility of talks collapsing amid slow progress, even as he said the bloc isn't preparing for such an outcome. While he hoped EU leaders would be able to move talks on to the post-Brexit trade deal by the end of the year, he also stressed there were no guarantees.
Dual Grillings | May's Brexit ambiguity will make for a fiery Prime Minister's Questions at noon on Wednesday. Hammond can probably also expect a more robust grilling than usual at the Treasury Committee at 9:45 a.m. The backbench 1922 committee of MPs also meets today.
Denmark Calling | If the U.K. can't guarantee European citizens now working there that their lives will be unaffected by Brexit, then those people should look for jobs in Denmark, says the Confederation of Danish Industry, which is battling a severe labor shortage.
Broadcasters' Exit | International TV companies, which face similar obstacles to banks in offering services in Europe post-Brexit, are yet to act on any contingency plans, Sharon White, head of regulator Ofcom, said on Tuesday. Government understands broadcasters' needs, but the question is how they are prioritized in a "much bigger negotiation," White said in parliament.
Wrong Reasons | The Bank of England is ready to raise interest rates from a position of economic weakness rather than strength, writes Bloomberg's Jill Ward. The fastest inflation in four years is pushing the bank to hike rates, but it's weak productivity and Brexit that are fanning those pressures rather than an accelerating economy. Meanwhile the IMF upgraded almost every advanced economy's growth forecasts yesterday—except the U.K.'s.
Real Estate Wobble | The cost of borrowing to buy U.K. commercial property is rising and the amount of credit that lenders, particularly from North America, are willing to advance is falling as concerns about Brexit, rate hikes and property values grow, according to a survey of 78 lenders by De Montfort University. Meanwhile, realtors who thought that London's luxury-home market would be kick-started by the pound's fall have been disappointed.